Experience Gain
Jump to navigation
Jump to search
Adventurers in the world of Sanctuary find it hard enough to level up without looking for an easier or better way to do it. Diablo III gives players several options for speeding up the process, so that we can get to those awesome Loot Runs!
There are many ways of increasing the experience you receive from kills in Diablo III ... the first way is for low level characters, primarily. It involves equipping items on your character that give you a flat bonus increase in experience gained per kill.

You can see, depicted here, the Diablo III Armory Page for a character named Kali.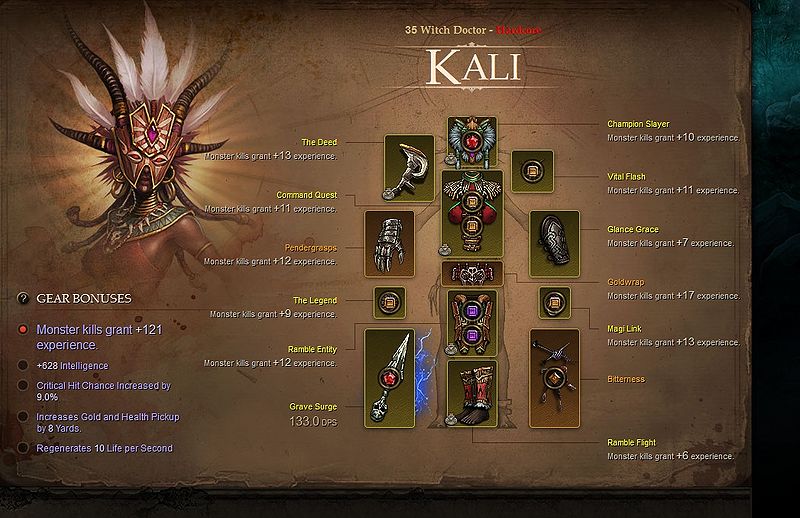 As you can see, this character has made heavy use of the +exp gain affix to help in leveling up much faster.

In addition to the flat experience bonus, Diablo III also allows players to add a % experience gain bonus, from several different sources, including set parts working together. This is the second way for increasing your experience gain.

Also, putting a Ruby in your helm will give you faster experience gain. Again, referring to Kali's equipment, you can see that she has a Star Ruby in her helm. Gems in Diablo III have no level requirement, and can easily be used that way. Another low-level item that can be of extreme power is called a Hellfire Ring. It can only be crafted in Inferno difficulty, and is account bound, so you MUST craft one yourself to get it. It carries a bonus of +35% experience, and has no level requirement!
Rubies give the following exp bonuses in helms:

Chipped: +5% experience
Flawed: +7% experience
Gem: +9% experience (Standard Gem)
Flawless: +11% experience
Perfect: +13% experience
Radiant: +15% experience
Square: +17% experience
Flawless: +19% experience (Flawless Square is the highest gems that drop in the game)
Perfect: +21% experience (Perfect Square)
Radiant: +23% experience (Radiant Square)
Star: +25% experience
Flawless: +27% experience (Flawless Star)
Perfect: +29% experience (Perfect Star)
Radiant: +31% experience (Radiant Star is the highest gem that can be traded in the game)
Marquise: +33% experience (Marquise Star Gem is the highest gem in the game. They are account bound on creation.)

Finally, Monster Power also affects the experience gained as you adventure ... The chart below gives details concerning the effects Monster Power will have on your adventuring stats. Note that Inferno Difficulty uses an entirely separate chart!